AdWords vs. Bing ads vs Facebook ads: Who is the Champion of the Ad War?
on
Jul 24, 2018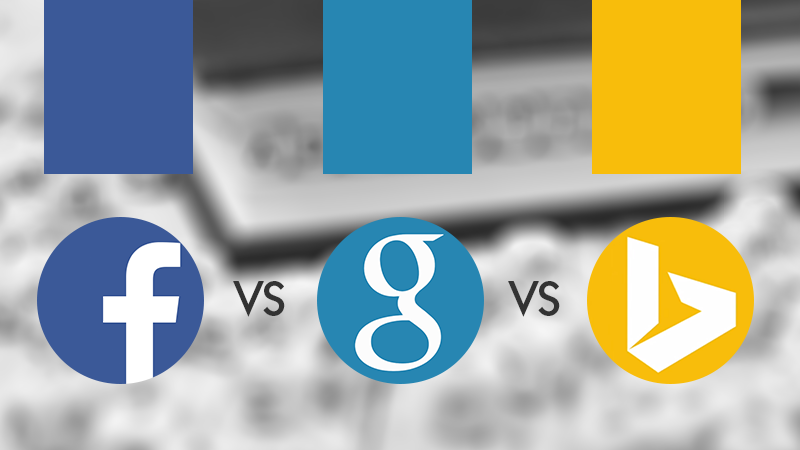 Ads! Ads! Ads!
Ads help your business flourish by getting it the eyeballs it sorely needs.
Let's take a hypothetical situation. Imagine having a shop on a street. You sell products of the best quality, and provide great value for money: two things that are sufficient to make a business flourish (or so you think). However, you haven't put up a board, banner, poster or ad anywhere - none on the main road, none at the crossroad, and none outside the street. How can a business thrive when people don't even know that it exists?
The online world is a lot like those small streets. If you don't shout out loud or put up directions leading to your shop, there is a high possibility that it won't survive.
So, how do online ads play their part in this whole scenario?
There are a number of things one needs to define when it comes to online ads in relation to your business. Let's discuss this stage by stage.
Stage I
To begin, you would first need to answer a few questions. Here they are:
What do you want out of this ad?
Who do you want to target?
Do you want your customers to find you, or do you want to find them?
Stage II
If you want your customers to find you for lead generation, search ads like Google AdWords and Bing ads are your go-to mediums.
Google Adwords
- The biggest search engine, it has the highest number (3.5 billion a day) of searches.
- If you (your website) emerges on top, there is more probability that it will be clicked.
- There are innumerable number of optimizations available for Google AdWords.
- It helps navigate around chunky data, thereby giving a clearer picture of your product.
- It is the only payer that makes multiple retargeting possible.
Bing
- On a tighter budget, Bing might help you get more eyeballs for lesser bucks.
- If your primary audience is aged 35-54, Bing might be ideal for you.
- Bing also gives two location options, instead of one.
Social Media Ads
A social media ad is another ball game altogether. They are mostly used for creating brand awareness by leveraging social media. Hence, they might not necessarily convert. They are essential for brand building and thereby create a recall with your customers.
To conclude, there is no real winner in this game. It all depends on you and your objective. The best way forward is to use all types of ads in concurrence to their benefits. Start with low-cost Facebook ads to create brand awareness for prospective leads, and end by closing the deal with appropriate search ads.